I had a pleasure to co-chair 16th KKIO Software Engineering Conference (KKIO'14) as well co-chair the Philadelphia Session @ KKIO'14. The aim of the session was to present important, recent achievements of Polish researchers in software engineering (published by SE journals indexed by Thomson Reuters) and to stimulate high-quality research, collaboration and discussion on research challenges in software engineering.
My introduction slides to the Philadelphia Session @ KKIO'14 are available here. One of the slides presents contribution of European countries to the selected set of Software Engineering journals since 2010.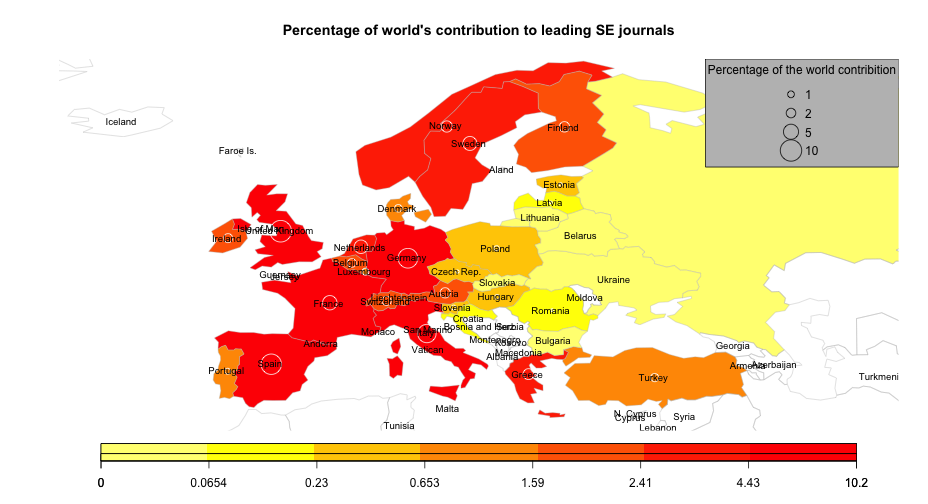 The selected set of journals included:
ACM Transactions on Software Engineering and Methodology (TOSEM)
Automated Software Engineering (ASE)
Empirical Software Engineering (EMSE)
IET Software (IETSW)
IEEE Software (SW)
IEEE Transactions on Software Engineering (TSE)
Information and Software Technology (IST)
International Journal of Software Engineering and Knowledge Engineering (IJSEKE)
Journal of Software: Evolution and Process (JSEP)
Journal of Software Maintenance and Evolution: Research and Practice (JSME)
Requirements Engineering Journal (REJ)
Software and Systems Modeling (SoSyM)
Software Quality Journal (SQJ)
Software Testing, Verification and Reliability (STVR)
Software: Practice and Experience (SPE)
Journal of Systems and Software (JSS)
All of these 16 journals are indexed by Scopus, which provides an excellent search interface including ability to construct advanced search strings.
The search performed using Scopus on September 14, 2014 returned:
4591 document results in total,
973 document results by authors from United States
469 document results by authors from UK,
418 document results by authors from Spain,
390 document results by authors from Germany,
340 document results by authors from Italy,
(other countries…)
35 document results by authors from Portugal,
28 document results by authors with Polish affiliations.
It seems to be a SPACE for improvement
See more details in a chapter "Recent Polish achievements in Software Engineering" published in a book "Software Engineering from Research and Practice Perspective", edited by Lech Madeyski and Mirosław Ochodek. Polish Information Processing Society Scientific Council, chap. 1, pp. 15-38. 2014.